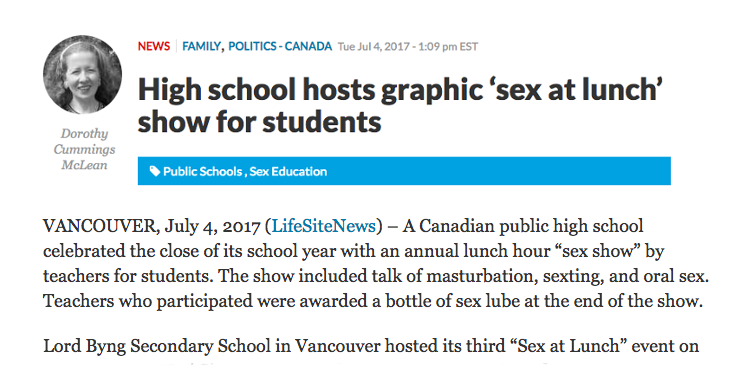 by Dorothy Cummings McLean
Tue Jul 4, 2017 – 1:09 pm EST
VANCOUVER, July 4, 2017 (LifeSiteNews)
Click here to download a PDF version of this post.
A Canadian public high school celebrated the close of its school year with an annual lunch hour "sex show" by teachers for students. The show included talk of masturbation, sexting, and oral sex. Teachers who participated were awarded a bottle of sex lube at the end of the show.

Lord Byng Secondary School in Vancouver hosted its third "Sex at Lunch" event on June 14, 2017. Kari Simpson, a radio host and parents' rights advocate who runs Culture Guard, exposed the event on her website.

Simpson, who attended the event and recorded it on her phone, said an unnamed woman wearing tight jeans and red stiletto heeled shoes introduced the annual sex show, telling the students that being teenage "sex addicts" always gives them an advantage over the teachers.

"Grade 12 will always have the advantage," the woman said, "since it seems you have more sex addicts than anyone else in the school."
Click here to read the original article at LifeSiteNews.com.